Donna Race Motorcycle Gloves Alpinestars STELLA SP-1 GLOVES Black
Code: 3518115/10
Division:
brands: woman
€ 142.00
Savings: € 7.95
list price: € 149.95
Delivery within 7 working days from the date of receiving payment
Add to cart
description
The Alpinestars SP-1 is a complete glove for sporty driving for women that uses advanced, in hybrid materials for the optimal combination of protection, durability and comfort. The tapered profile of the glove integrates knuckles in carbon fiber and EVA foam inserts to combine safety and style.
Structure and innovative protection
Ergonomic profile specifically designed for women
Goat skin, soft but sturdy, used on the palm and fingers for superior durability.
Cowhide on the knuckles and fingers for increased comfort forks and feeling.
Synthetic leather reinforcements on landing zones of the palm and outer palm for maximum abrasion resistance in critical areas.
The anatomical carbon fiber knuckles provide protection from impact and abrasion of an exceptional standard.
Fingers, wrist, wrist and back of the hand padded EVA foam with high absorption for additional protection.
Bridge of patented third and fourth finger to prevent excessive rotation and separation of the fingers in the event of impact.
Wrist and back in perforated leather sides and vented fingers to keep hands cool to drive.
Pre-curved fingers to reduce fatigue to the guide.
Velcro wrist closure increased to facilitate and ensure the fit.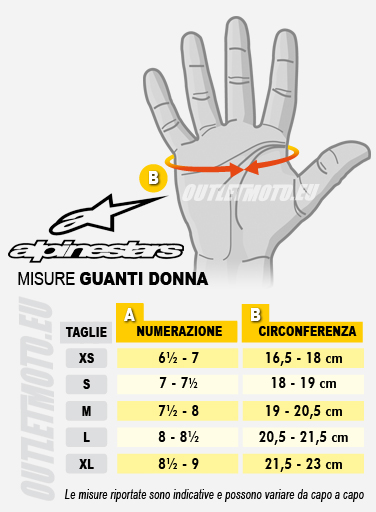 Other colors
Other customers have purchased
Similar products