Dual Visor Modular Motorcycle Helmet LS2 FF 325 Strobe CIVIK Titanium / Black
Code: LS2/503252008
Division: road
brands: unisex
€ 128.90
Savings: € 30.10
list price: € 159.00
Out of stock
description
The STROBE helmet model is the new modular line LS2.Questo helmet has fully removable and washable interior, also for improved adaptation pillows are pre-formed and cut to laser.I tissues were treated with an anti-bacterial process and are fully breathable. the helmet has a chin strap from chin to prevent air infiltration from basso.Per those who wish, also the helmet is prepared for a bluetooth.La visor audio system has an anti-scratch and anti-fog, in addition, the helmet has a small sun visor and the preparation to enter the antinebbia.Per visor remove the visor is very simple because the mechanism is fast estrazione.Per the hottest periods, the helmet is equipped with an intake system and outlet, which always keeps the head cool .The closing of the helmet is fine, is produced in sizes XS to XXL.
Data sheet:
2 caps (XS-SM) - (L-XL-2XL)

SHELL HPTT Composite

VISOR 3D Anti-fog / Anti-scratch transparent

Visor dual internal shield with Ergo Touch Control

OPTIONAL VISOR Prepared for Pinlock & Tear-Off

VENTILATION SYSTEM In & Out

RETENTION quick release system

LINER Moisture Wicking, Anti-oder, Anti-bacterial, removable, washable, soft fabric Fully removable and washable interior camera takes

Weight 1500 + 50g.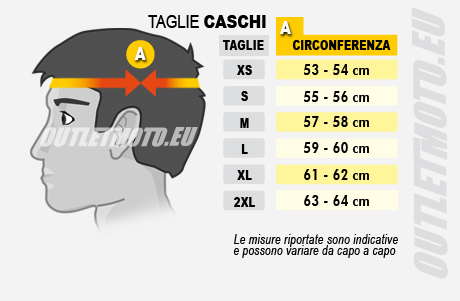 Other colors
Other customers have purchased
Similar products