In Genuine Leather Motorcycle Jacket Dainese Model Veloster Black Anthracite White
Code: 1533729/867
Division: road
brands: man
€ 338.90
Savings: € 121.05
list price: € 459.95
In Stock - Express Delivery 24h
Add to cart
description
Leather motorcycle jacket Dainese VELOSTER. An asymmetrical design, dynamic and aggressive lines inspired by the world of the track, for those who have the speed in the blood and is always outside the box.
cowhide Comfort
Bi-elastic fabric S1
Co-injected shoulder with aluminum insert
The co-injected with metal insert shoulder is one of the most revolutionary solutions that equip Dainese garments. The usual removable composite protection is replaced by an injection of plastic material on a lattice externally coated with polyurethane, on which is fixed to the metal plate.This solution allows the protection, certified according to EN 1621.1, to maintain in each situation the correct position on the shoulder, and at the same time a smaller footprint to the advantage of comfort for the rider.
Composite protectors certified to EN 1621.1
The composite protectors on shoulders, elbows and knees, certified according to EN 1621.1, offer a high standard of protection due to their particular construction. A rigid outer shell in plastic material, on the entire protector distributes the energy generated by the impact zone, by means of a patented lattice structure, able to distribute and absorb the impact of a large surface area, with a thickness and a lower weight.The inside of the protection, with very high density polyethylene foam, has high deformability and a high memory, which molds to the shape of the body, allows a better comfort, also favored by the perforated external structure, which facilitates the transpiration.
hip width adjustment
Jacket-pants
Stretch fabric inserts
Elastic inserts, positioned at strategic points, improve the head's ability to adapt to the forms and movements of the body while driving.
elastic inserts Microelastic
From the study of ergonomics is born this new patent Dainese, designed to further enhance driving comfort and at the same time manterene a high level of security. The coupling of an insert made of elastic tissue underneath the skin panel allows the micro-elastic zones located where the body needs more mobility, and at the same time offering increased abrasion resistance area. This is obtained thanks to the reduction of the number of panels and seams that unite them, as well as to the possibility to maintain a higher thickness of the panel compared to traditional elastic inserts.
Full leather collar
removable thermal lining
TF inner lining
Air vents on the back
soft inserts
Distributed in different areas of the body, mostly on the hips, collarbones, chest and kidneys help to increase the comfort and avoid any minor injuries.
Reflecting inserts
2 outside pockets
Pocket for G1 and G2
certified jacket CE - Cat.II - Directive 89/686 / EEC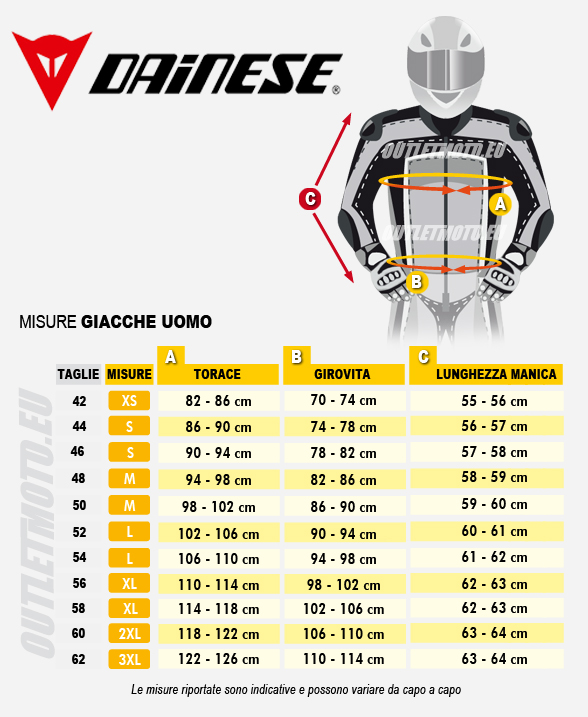 Other colors
Other customers have purchased
Similar products