Integral Motorcycle Helmet AGV K-4 Multi Fiber Diapason Black Grey
Code: 0031A2C0/021
Division: road
brands: unisex
€ 206.80
Savings: € 52.20
list price: € 259.00
Out of stock
description
DIFFERENCES / IMPROVEMENTS WITH RESPECT TO THE PRODUCT PREDECESSOR (K-4):

New interior with 3D construction and improved comfort

New skin-friendly fabrics that enhance the feeling of fit and reduce the sensation of friction when simette or removes his helmet

richer interior with refined

low weight of nearly 100 g.

PRODUCT CONCEPT
The K-4 Evo is proposed as the most balanced and versatile helmet in the AGV range: suitable for both the motion that the scooter can be intended for any use, sports, tourist or citizen.Taking up the philosophy of the K-4 and improving weight and comfort, the K-4 Evo is ideal for those who want a beautiful helmet, safe, comfortable and with a value / price of absolute importance.
DESIGN
The design of the K-4 Evo resumes that of the K-4, the model it replaces in the range. A design that stands out for the front air intakes, the chin, the side lines, the spoiler and creates an immediate family feeling with other products in the recent AGV range.
SHELL
The outer shell is in 2 in glass fiber sizes ACF (Advanced Composite Fiber).
Available sizes range from XS to XXL.
VENTILATION
The air intakes found on the forehead and chin guard provide a constant flow of fresh air inside the helmet.The rear diffuser integrated into the spoiler, through ducts in the EPS, eliminates the warm and moist air from inside the helmet.
VISOR
Visor Street 8 curve has anti-scratch and anti-fog and allows 100% protection from UV rays.
INTERIORS
The interior, removable and washable (excluding neck roll), are in Dry-Comfort with sanitizing treatment that prevents the formation of bacteria and prevents allergies. The new pillows have 3D construction for improved comfort, while the headset has a new design that has enabled an improvement in both aesthetic and fit. The new fabrics used reduce the feeling of friction when you put or removes his helmet. The nose guard and the control parameter are removable and washable.
FUNCTIONALITY / SECURITY
The new visor mechanism with XQRS system (Extra Quick Release System) as well as being lightweight and functional, it is equipped with the innovative PVS system (Perimetrical Visor Seal - Seal the perimeter of the visor). The edge of the visor, thanks to a specific seat provided on the mechanism, is coupled to the visor profile throughout the length of the perimeter, including the sides. In this way, they reduce noise and drafts that may come from the side zone where the insulation is more difficult. The weight of the helmet, reduced by approximately 90 g. compared to K-4, is now less than 1,300 g in size M and allows less fatigue and prolonged use of neck strain and typical use of the bike behind. The retention system has the microlock locking with anti-theft ring.

Data sheet:

Outer shell made of fiberglass ACF (Advanced Composite Fibre)

ventilation system with 3 vents front and rear air spoiler

New visor mechanism with XQRS system - Extra Quick Release System - for removal and replacement of the visor in seconds without tools.

visor mechanism with PVS system - Perimetrical Visor Seal - for a moreeffective perimeter sealing and insulation from drafts and noise as the venue for the edge of the visor

New Street 8 visor anti-scratch and anti-fog polycarbonate

removable nose guard

Protection under anti-wind removable throat

Fully removable and washable (excluding neck roll)

Headphone new design and 3D pillows for better comfort and sound isolation

Fabrics Dry-Comfort with hygienic treatment

Retention system with micrometric adjustment

Anti-theft ring on the strap

Sizes: XS-XXL

Weight: 1,290 g. (+/- 50 g.) In tg.M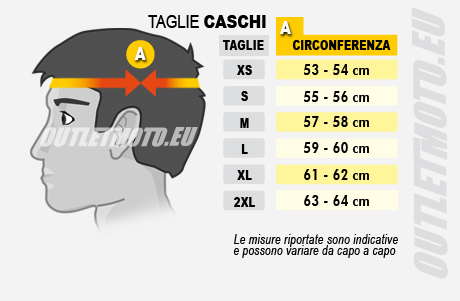 Other colors
Other customers have purchased
Similar products