Moto Cross Enduro helmet AGV AX-8 Evo Carbon Multi Nohander
Code: 7531a2f0/004
Division: road
brands: unisex
€ 385.80
Savings: € 73.20
list price: € 459.00
Delivery within 5 working days from the date of receiving payment
Add to cart
description
Moto Cross Enduro helmet AGV AX-8 Evo Carbon Multi Nohander
Technical data sheet:
Features Helmet AGV AX 8 Carbotech Carbon:
is the new top of the range AGV fiber for professional use and off-road. The AGV AX-8 Evo states in the world of cross racing thanks to a highly original product design and specifications of the first level.The design differs compared with the proposals offered by the market today thanks to the chin guard from the immediate aesthetic impact, characterized by a steel grill to protect the front air intake system that enables this helmet always be recognizable.
Shell:
The cap has stratification SSL (Super Super Light), made of carbon, aramid and glass fiber to contain the weight of the helmet and to ensure the maximum safety. L 'AX-8 Evo is available in 3 outer shell sizes with sizes from XXS to XXXL.
Ventilation:
The integrated ventilation system IVS is composed of channels formed direttamentenella cap, which guarantee a more effective air flow inside the helmet and the best aerodynamic performance. The air intakes found on the forehead, on the edge of the visor and especially on the chin allow a constant flow of fresh air inside the helmet. The rear extractors, through the channels in the EPS, eliminate the warm moist air from inside the helmet.
Interior:
The interior, with hygienic treatment and made of breathable Dri-Lex®, are completely removable and washable, including covers of the band, so that's always a perfect hygiene of a helmet that, by nature, is subjected to extreme use. For the same reason the visor area are used in soft plastic shell which, unlike tissue, do not soak and are easily washable with the help of a sponge or a brush. The interior of the visor opening area are designed for a perfect fit even with glasses Cross.
Safety:
The trimming of the cap in the chin area, combined with a wide base edge and soft, decreases the interference with any collar used and reduces the risk of trauma from impact due to the "shock-absorber". The air intake snout is easily removable without tools and has dimensions designed to have a very good air flow and a complete protection of the chin (in other helmets the chin of the pilot protrudes from the outline of the helmet due to the reduced height of the chin). Despite the magnitude of the air intake on the chin guard, the robustness of the latter is not compromised thanks to a strong structure in the fiber which creates the best compromise between the air flow and mechanical strength.The peak with outer screws in aluminum is easily adjustable thanks to the central screw in plastic under peak. The retention system has the closure DD with double ring.
Weight:
E2205: 1.100g (+/- 50 g) in tg.M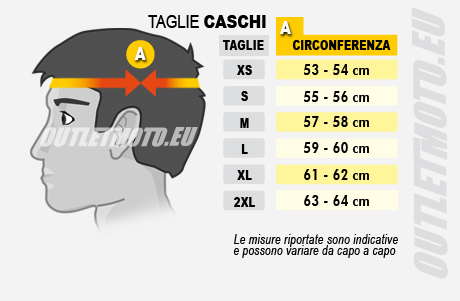 Other colors
Other customers have purchased
Similar products