Moto jacket Fabric Dainese Veloster Tex Black Fluo Yellow
Code: 1735177/u41
Division: road
brands: man
€ 197.00
Savings: € 22.00
list price: € 219.00
Delivery within 5 working days from the date of receiving payment
Add to cart
description
Dainese motorcycle jacket fabric RAPTORS TEX. A sporty with aggressive lines that allow you to make you always notice when your releases in motion. To underline the vents on the arms and shoulders and breathable textile lining Sanitized and perforated allowing a great ventilation on hot days.
Data sheet:


brand fabric Duratex

Removable composite protectors certified according to EN 1621.1

Waist adjustment

Jacket-pants

Neck width adjustment

elastic inserts Microelastic
From the study of ergonomics is born this new patent Dainese, designed to further enhance driving comfort and at the same time manterene a high level of security. The coupling of an insert made of elastic tissue underneath the skin panel allows the micro-elastic zones located where the body needs more mobility, and at the same time offering increased abrasion resistance area.This is obtained thanks to the reduction of the number of panels and seams that unite them, as well as to the possibility to maintain a higher thickness of the panel compared to traditional elastic inserts.
wrists amplitude adjustment

Air vents on sleeves

Air vents on shoulders

Sanitized lining fabricbreathable and perforated

Reflecting inserts

2 outside pockets

Pocket for G1 and G2 and chest protector Double Chest (one man)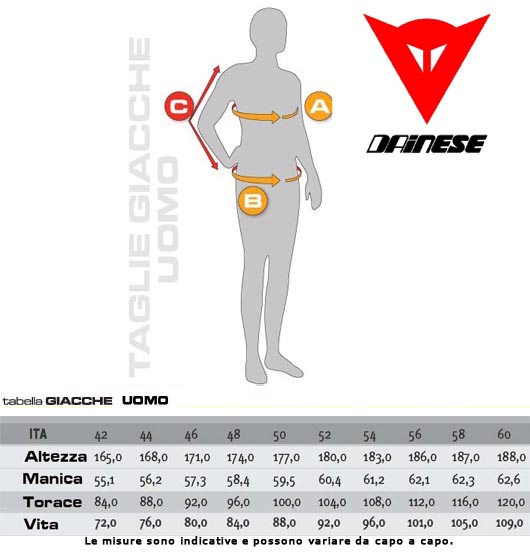 Other colors
Other customers have purchased
Similar products