Description
Terminator Open Vision by Airoh is the new off-road helmet made entirely of composite fibers, available in two different shell sizes, dedicated to riders who do not want to go unnoticed.
Attractive design, lightness and ventilation are just some of the advantages that make this helmet both performing and comfortable at the same time.
In fact, maximum care has been given to the interiors, made and designed with latest generation materials that guarantee comfort and breathability. Terminator Open Vision is also equipped with a special dust filter, the perfect ally during your off-road days. Complete the retention system with double D rings, for maximum safety, the emergency system for removing the cheek pads (AEFR), the extension of the peak and the excellent ventilation system that guarantees an excellent internal air recirculation keeping the head always comfortably dry.
Data sheet:
The helmet is produced with caps of different sizes depending on the size proposed and thus allows to offer a perfect proportion between the volume of the helmet and the size of the rider, while maintaining the degree of protection and safety.
Cap in HPC composite fibers
2 front air intakes
Upper air intakes
Air intake on the chin
Rear clamps
Removable and washable inner lining
Double buckle closure D
Extended Front
Weight: 1070 g (+ - 50 g).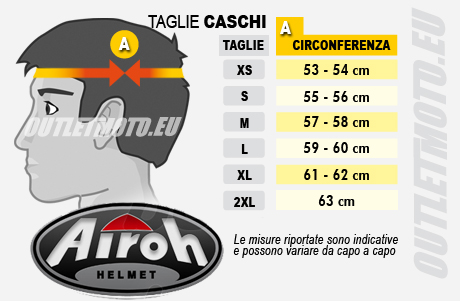 Sizes Motorcycle Helmets