Motorcycle Helmet Integral Premier Touran Multi Double Visor U9BM Matt Black
Code: APINTTOUFIBU9M
Division: road
brands: unisex
€ 179.90
Savings: € 39.10
list price: € 219.00
Select the size to know the delivery times
Add to cart
description
The helmet Premier Touran DSY BM is compatible with most communication systems Bluethooth Universal, the Italian company wanted to design and implement a helmet that is suitable for the bike-tourist, but that enshrines if all the characteristics of the helmets Premier: lightness , safety and aerodinamicità.Premier Touran DSY BM, has the cap is made of tri compound called DCA and is printed in carbon, aramid and Dyneema, but for those who want the absolute best is also available Touran Carbon, with cap exposed carbon, with or without graphics.
The shape of the shell ensures a great comfort but also aerodynamics, quietness and especially an excellent balance, essential qualities for a helmet which is assumed to be used for several hours.
The inner shell is in EPS, and is printed in two sizes and different densities, to ensure maximum capacity for shock absorption.
The removable and washable interior, using hypoallergenic fabrics with Sanitized treatment that provide excellent breathability and comfort, while the closure of the strap has a quick release with micrometer.
Essential but very functional the ventilation system, which uses two adjustable air vents, one positioned on the chin guard and one on top of the helmet, as well as a rear extractor that allows the release of hot air and humid that is created inside the helmet.
The visor, injection molded polycarbonate, has a thickness of mm.2,2, is treated scratch resistant and is designed for the system Pinlock.
Touran also has a visor dark interior, housed inside the cap and operable with a new system that works through a small lever positioned on the left side of the outer shell, in the vicinity of the mechanism of the movement visor.
Like all helmets Premier also Touran is approved according to the ECE 22-05.
Technical Data:
Cap: 1 cap with new three composite fiberglass material Dyneema-Carbon-Aramidic and epoxy.
Ventilation: ventilation system with two dynamic air intakes and extractors 4.
Interior: Removable and washable; perspirant neck roll and sterilized.
Visor: Scratch + + QRS system Pinloock
Visor inside: you
Buckle: Quick Release with micrometric adjustment.
Sizes: 5 sizes XS to XXL
WEIGHT: 1.350 ±50g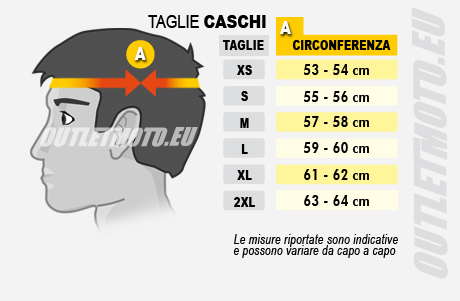 Other colors
Other customers have purchased
Similar products