Motorcycle Leather Pants Rev'it Maverick Short Blacks
Code: FPL016/0012
Division: road
brands: man
€ 260.00
Savings: € 29.00
list price: € 289.00
Out of stock
description
The strong design of black leather jacket Adrenaline deserved a pair of pants to match. The materials used for the Mavericks are a perfect combination of various types of leather, combined with elastic tissue inside of the legs.
CUT TO 5 CM
Technical Data:
Leather Pants Men made of fabric composed of 85% leather, 15% Polyamide
They are dedicated to touring and therefore have a comfortable fit and cut "boot-cut" right when you wear the boots.
They also hinges on the back of the calves and have ranges regoalzione in life beyond the elastic waist.
Have comfortable elastic inserts at the waist, back and knees and practical front pockets with zip.
The safety equipment consists of ProLife® CE protectors on the knees, sitting in a double layer of skin, pockets prepared for the protections hips model TRYONIC Seesoft EC-level 1type B - version RV01 and in the most at risk of impact have been used seams safety.
For the exterior was used Monaco Performance cowhide, the same used for clothing racing, Pampas cowhide polyurethane coated for water repellency and water resistance, the resistant fabric PWR shell 1200D stretch offering an exceptionally high melting point and high resistance to tearing and abrasion.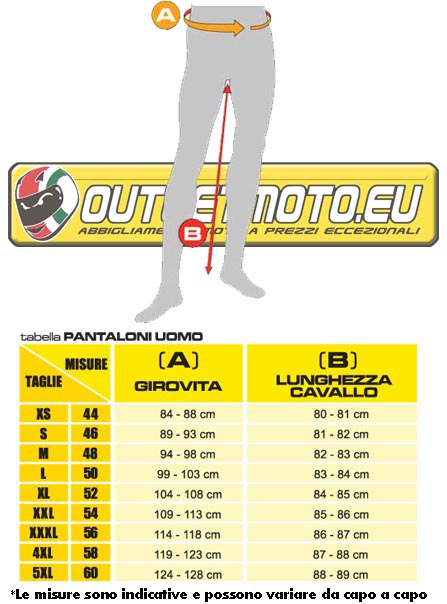 Other customers have purchased
Similar products