Moto Cross Enduro helmet Terminator 2.1 Color Ligthning Orange Polished
Product code:
Code:
ai/t2lg32
218.90€
390.00€
List price
You save 171.10€
Description
The Terminator is a helmet off road whose characteristics have been designed with attention to every detail to achieve the ultimate in safety, comfort and aesthetics. The outer shell has been realized in two steps and consists of composite carbon fiber and aramid fibers laminated with the multi axial.
The internal structure of the cap is anatomical and the weight of the helmet Airoh Terminator, thanks to the materials used, is of just 1050 grams.
The retention system of the helmet with double ring strap aluminum and can be loosened quickly, pulling the red ribbon.
The fabrics have internal inserts highly breathable mesh and their thickness varies depending on the size. Being removable, they can be easily washed and sanitized by treatment Sanitized.
The helmet is equipped with a ventilation system with air intakes in the front area and the chin guard and of a network of protection to prevent the entry of insects or small stones, which is also removable and washable.
There is also a protection for the nose rubber and the front bezel is adjustable.
The product was tested in a wind tunnel.
For maximum safety, the pillows are equipped with the Airoh Emergency Fast Remove, which allow the quick release when needed.
In case of accident fact the pillows can be extracted avoiding risky movements.
Technical data sheet:
Shell in composite fibers of carbon and aramid fibers stratified
Inner shell anatomic
Closing double aluminum ring for maximum security
Internal tissues with highly breathable inserts
Vents in the front area of ??the chin guard with safety net
Interior removable and washable
Padding igenizzate by Sanitized
Covering your nose and front adjustable
Weight: 1050 grams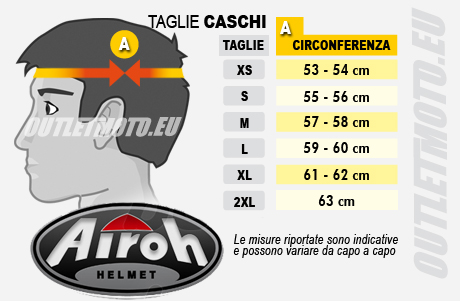 Sizes Motorcycle Helmets