Motorcycle Gloves Racing Dainese Carbon D1 Long Black Fluo Red
Code: 1815853/p75
Division: road
brands: man
€ 141.90
Savings: € 8.05
list price: € 149.95
Delivery within 5 working days from the date of receiving payment
Add to cart
description
Gloves Dainese CARBON LONG D1. Sport gloves along highly protection certificate thanks to its composite carbon inserts on the knuckles. The polyurethane inserts on the palm and finger joints make it particularly protective.
Data sheet:
Palm made of goatskin
Composite inserts in carbon fiber on the knuckles
composite material consisting of a network of carbon filaments immersed in a resin and then allowed to solidify, creating an extremely lightweight fiber, but at the same time by the very high structural rigidity.
Skin Micro Sheep
Reinforcement in goatskin between thumb, index and palm
Palm Amica Super Soft Suede
One single leather panel of the hand
polyurethane inserts on the fingers and palm joints
tightening strap
Strap placed on the wrist of the glove, to prevent it from slipping, even partial, in case of fall, thus keeping the rigid inserts in the correct position in every situation.
Cuff adjustment wrist
curved fingers
biaxial stretch inserts
Distortion Control on little finger
polyurethane insert positioned at the base of the little finger, to reduce the risk of unnatural twists of the finger in case of fall.
inner side of finger Soft inserts
Distributed in different areas of the body, mostly on the hips, collarbones, chest and kidneys help to increase the comfort and avoid any minor injuries.
Cover strap antiscalzamento
Strap placed on the wrist of the glove, to prevent it from slipping, even partial, in case of fall, thus keeping the rigid inserts in the correct position in every situation.
Silicone print on the fingers for extra grip
Glove CE certificate - Cat. II - Pr-EN 13594/2010 liv.1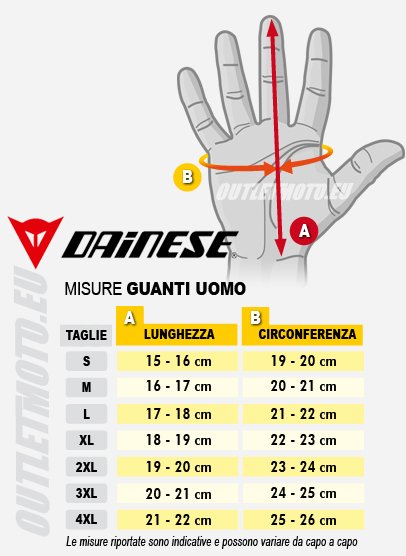 Other colors
Other customers have purchased
Similar products