Motorcycle Gloves Winter Alpinestars JET ROAD GORE-TEX GLOVES Blacks waterproof
Code: 3522016/10
Division: road
brands: unisex
€ 104.00
Savings: € 56.00
list price: € 160.00
Out of stock
description
A touring glove high level able to face any weather condition: the Jet Road Glove is equipped with technology and waterproofing
Thermal insulation GORE-TEX®. Innovations protective rigorously tested, a sturdy leather and fabric, reflective details for driving
in difficult conditions and a comfortable clean-visor: the Jet Road is a must of winter.
Technical data sheet:
Innovative structure of leather, nylon and stretch fabric to provide the optimum level of comfort and performance.
Palm full leather, with areas of reinforcement in synthetic suede for added control.
Model fit employed over the entire range Alpinestars gloves to improve the regularity of feeling and comfort.
Innovative multi-layer structure with thermal insert full-size, open-cell foam layer for heat retention, a waterproof membrane and an inner Primaloft for heat outputs insurmountable.
The long cuff in GORE-TEX® 100% waterproof double layer ensures an airtight seal around the sleeves.
Knuckle protection polymer developed on track for greater resistance to impact and abrasion.
Digital bridge between ring and little fingers to prevent twisting and separations of the fingers during a slide.
Thermoformed foam padding on the knuckles, fingers, wrist and palm for greater protection.
Reflective details in a strategic position improves the visibility of the motorcyclist at night or in conditions of poor visibility.
visor cleaner on the thumb for greater comfort.
Panels elastic fabric bellows on thumb and back of the hand to improve fit and freedom of movement.
Double Velcro® closure on the cuff to ensure a secure closure, fully waterproof.
Eyelet drain on the outermost layer of the cuff.
Digital Touch-screen stylus compatible for use with surfers.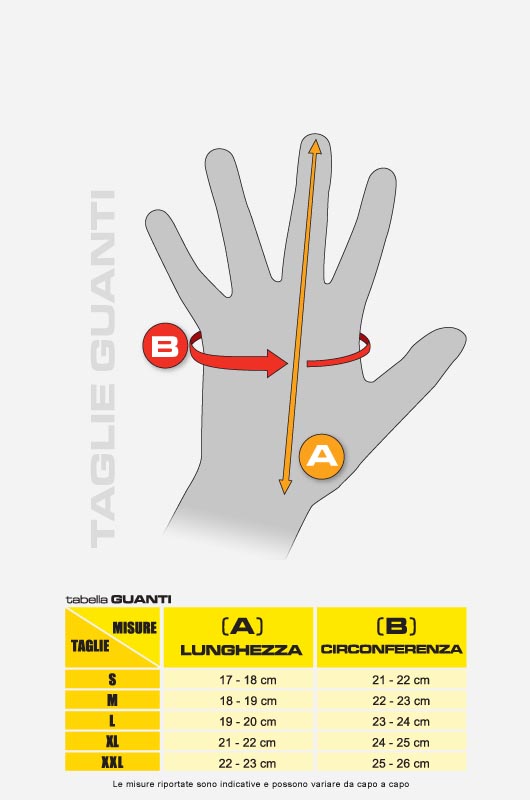 Other colors
Other customers have purchased
Similar products