Motorcycle Jacket Fabric Rev'it Model Dayton Black
Code: FJT200/0010
Division: road
brands: man
€ 323.90
Savings: € 36.09
list price: € 359.99
Out of stock
description
It carries the comfort of a jacket parka directly from the sidewalk to your bike without sacrificing either style or safety. The outer waterproof and abrasion of Dayton keeps you safe and dry, while the standard safeguards Knox® Lite CE-approved back protector and SEESOFT ™ EC-2 level optional provide security in the event of an impact. Thanks to multiple setting options and a removable thermal liner, you can easily optimize the Dayton to explore the streets walking, or for a ride on your favorite road. Once you are on your two wheels, you can easily secure the hood with a snap button to avoid swelling the wind. Whether you're walking or you're driving, the Dayton is sure to be your favorite city in all weather conditions.
Technical data sheet:
Hinge edge
Cord adjustment
Beam adjustment
City fit
Normal Cut
Aero cool 3D mesh
This shirt has a thick, three-dimensional structure that facilitates the ventilation once moving.It comes with integrated lines to absorb moisture from the body, keeping riders cool and comfortable in even the most extreme situations.
Button Mounting hood
Collar comfort
Jackets fabric collar comfort of REV'IT! a collar is slightly higher with soft tissue in front of your throat. In leather jackets the inside of the collar is lined with a soft fabric to offer more comfort to your neck.
Windproof cuffs on liner
V-flap
The V-leather flap is positioned behind the zipper cuffs to block the wind.
Pocket documents
Slit pockets
Inside pockets
Patch pockets on the outside
Removable thermal lining
PWR Shell 750D 2L
PWR | shell is made of 100% polyamide yarn in high performance with a high melting point, incredible tear resistance and abrasion resistance and excellent durability. PWR | shell provides high-performance protection for every rider.This lining is breathable and lightweight with an extra coating to increase the water repellency.
Protection Knox Lite CE
Prepared for CE-approved back protector SEESOFT Level 2 - type RV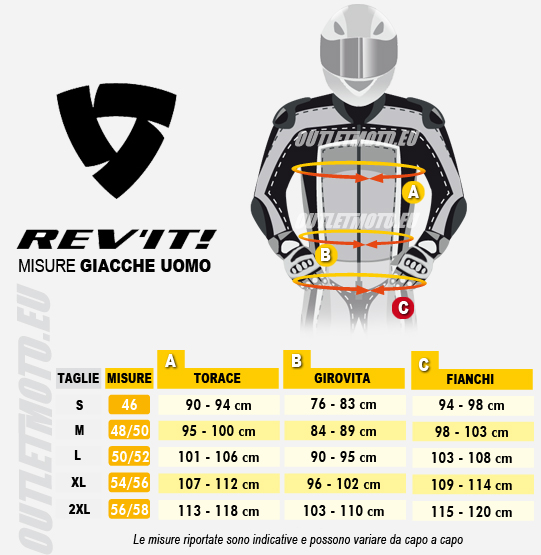 Other customers have purchased
Similar products