XPD X-VILLAGE Street Motorcycle Sneakers Black
Product code:
Code:
s88-026
Description
XPD X-VILLAGE Street Motorcycle Sneakers Black
XPD X-VILLAGE shoe Elegance and sportiness combine to create a comfortable urban shoe that is also suitable for outdoor tourism.
Data sheet:
Exterior in water repellent greased cowhide; 1.4 mm thick.
Rear joints in 0.8 mm thick cowhide to facilitate the bending of the shoe in the riding position.
Comfort pads on the back of the shoe.
YKK metal zip closure step 8.
Oiled strings with metal terminal.
Inner lining in highly breathable cowhide thickness 0.8 mm, dyed in barrel.
Inner sole in highly breathable cowhide with comfort EVA padding.
Paramalleolo in polyurethane coupled with shock absorber material.
Cowhide leather exchange.
Insole and buttresses toe and heels in composite material.
Leather shoehorn strap.
Leather welt stitched on the upper.
Thermoplastic rubber sole with urban mapping, light and comfortable with high cushioning capacity.
Sizes Motorcycle Footwear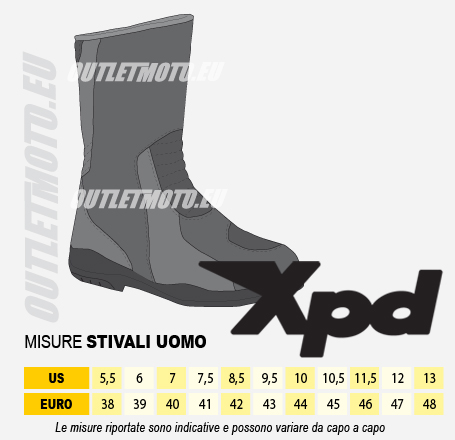 Same brand products
Other products Xpd